EdgeView Service Control Center (SCC)
The EdgeView Service Control Center (SCC) is the centralized interface to manage your VoIP infrastructure. It's graphical, easy to use interface allows you to monitor, troubleshoot, and resolve issues with your Hosted UC and SIP Trunking network. EdgeView SCC assists in readily solving customer issues leading to lower costs and higher customer satisfaction.
EdgeView SCC works in tandem with EdgeMarc Intelligent Edge™ devices to provide a complete view of your network. EdgeMarc provides EdgeView SCC the data source for network edge performance monitoring, assistance with troubleshooting, and reporting. This environment provides greater insights into LAN-side issues and access endpoint diagnostics. Using Auto Provisioning, EdgeView SCC can speed installations and make them more accurate.
Orchestrate the Edge
EdgeView SCC provides visibility to all voice and data traffic and provides alerts/alarms for remote troubleshooting and management. As an example, EdgeView SCC can enable automated "triggers" that kick-off enhanced troubleshooting. This allows operators to be notified of issues and provide them with a toolset to determine the root cause. In addition, the EdgeMarc retains a "ring buffer" of SIP signaling that can be accessed via EdgeView. This means you always have a repository of packet capture data to look at real-time issues.
EdgeView Service Control Center Features
Configuration Management: Element Management, Multi-tenant functions, Firmware Repository, Automated Security Updates
Proactive Monitoring: Real-time Visibility, Event-Based Triggers, and Notifications
Remote Troubleshooting: Issue Recognition and Remediation, Remote Diagnostic Tools
Analytics: Service Quality, SLA, Configurable Data Retention
Reporting: Analytics Data, KPIs, Automated Reports, Data Archive
See Your Performance
The EdgeView SCC provides dashboards and easy to read visual tools. Using EdgeView SCC, users can quickly examine trends and determine problem areas and network performance. They can also drill down into customer details and metrics for every call. Visualizations include:
WAN performance showing degradation and outages
Mean opinion scores (MOS) trends
Call volume
Call ladder diagrams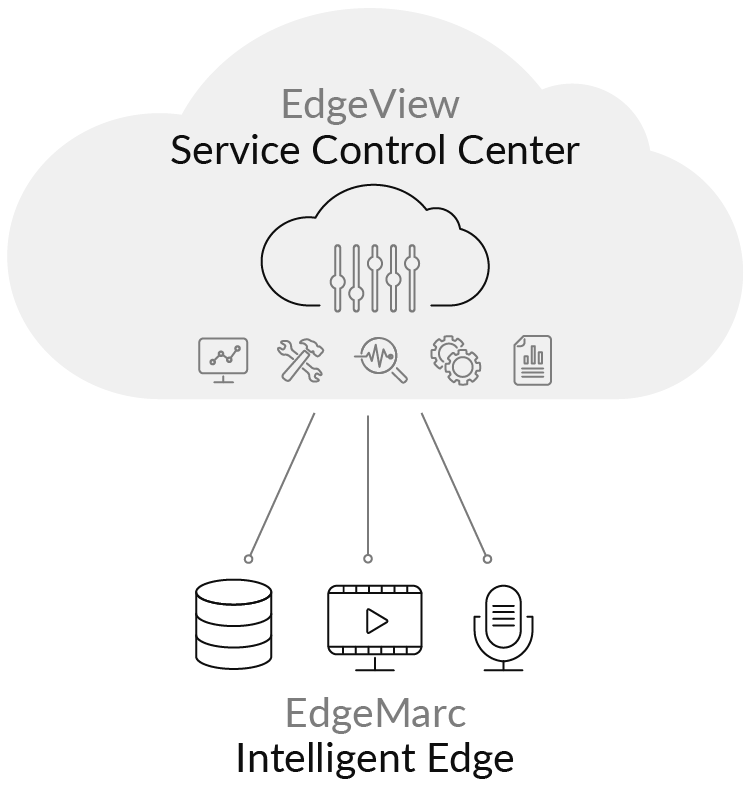 Auto Provisioning
Auto Provisioning is a capability that enables EdgeMarc devices to be installed quickly and accurately. Auto Provisioning has a number of capabilities including:
Installation of a selected firmware level
Push of a customized configuration specific to your service offering
Redirection of an EdgeMarc to EdgeView
Auto Provisioning also integrates with market leading provisioning servers to provide you a single pane of glass for customer turn-up.